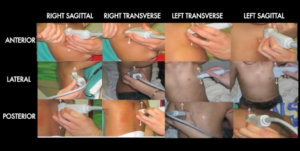 We know Jim Tsung can ultrasound anything, but in the peds world we all need to beef up our lung ultrasounds because more and more evidence is piling up to support the use of ultrasound to diagnose pediatric pneumonia.
A recent meta-analysis of 1510 patients showed that lung ultrasound had a sensitivity of 95.5% (93.6-97.1) and specificity of 95.3% (91.1-98.3). CXR had a sensitivity of 86.8% (83.3-90.0) and specificity of 98.2% (95.7-99.6).
So start working on your skills now!
Check out our ultrasound devisions teaching on lung ultrasound:
http://sinaiem.us/tag/lung-ultrasound/
A video on how to perform lung ultrasound from JAMA Pediatrics Study by Jim Tsugn:
http://ns5hq7zn5a.search.serialssolutions.com.eresources.mssm.edu/?sid=Entrez:pubmed&id=pmid:23229753
Want to read more?
Balk DS et al. Lung ultrasound compared to chest X-ray for diagnosis of pediatric pneumonia: A meta-analysis. Pediatr Pulmonol. 2018 Apr 26. doi: 10.1002/ppul.24020. [Epub ahead of print]
Shah V, et al. Prospective Evaluation of Point-of-Care Ultrasonography for the Diagnosis of Pneumonia in Children and Young Adults. JAMA Pediatr. 2013;167(2):119-125. doi:10.1001/2013.jamapediatrics.107