Consider inhaled nitric oxide in massive PE and watch for upcoming literature.
Massive PE elevates pulmonary vascular resistance leading to right ventricular failure, hypoxemia, and cardiogenic shock.
Inhaled nitric oxide selectively dilates pulmonary vasculature and has antiplatelet activity.
Prior case series show improvements in oxygenation and hemodynamic variables within minutes of starting iNO.
How does iNO help?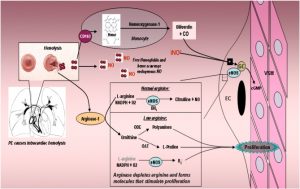 PE causes intracardiac hemolysis which disrupts NO signaling by scavenging NO and releasing arginase which depletes       l-arginine, producing a negative feedback cycle of increased pulmonary vascular smooth muscle constriction, increased PVR, higher RV pressures, and more hemolysis. Inhaled NO (iNO*) breaks this cycle.
There is a phase II clinical trial in the works now, so stay tuned for more data going forward.
Want to read more?
Bhat T, et al. Inhaled nitric oxide in acute pulmonary embolism: a systematic review. Rev Cardiovasc Med. 2015;16(1):1-8.
Kline JA, et al. the iNOPE trial. Am Heart J. 2017 Apr;186:100-110. doi: 10.1016/j.ahj.2017.01.011. Epub 2017 Jan 27