Clinical Scenario:
A 2-year-old female with no significant past medical history presents with vomiting and abdominal pain for 1 day. Among other entities in your differential diagnosis you are considering intussusception, however it is lower on your differential. How would you work-up this child?
Presenting Symptoms for Intussusception1
Sudden onset of intermittent, severe, crampy, progressive abdominal pain

Inconsolable crying and drawing up legs toward abdomen

Vomiting, may become bilious
Irritability
Increasing lethargy
Guaiac positive or grossly bloody stools, currant jelly stools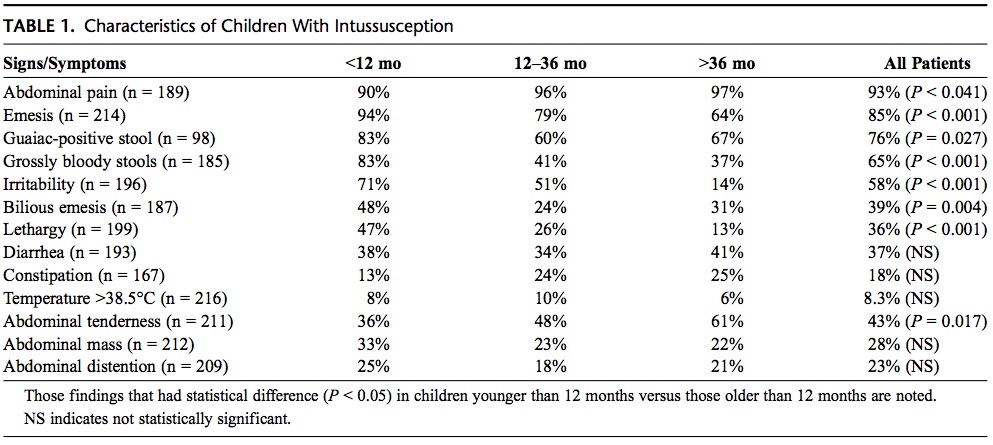 Plain Radiographs
Roskind et al studied 198 children 3 months to 36 months who underwent 3-view abdominal radiography for intussusception. The x-ray was compared with ultrasound, air enema, operative procedure, or improved clinical course. The study found 3-view abdominal x-ray was sensitive for ruling out intussusception.2 Limitations not withstanding, in patients with low clinical suspicion for intussusception plain radiographs may be considered.
3-view abdominal x-ray2

Views: Supine, prone, left lateral decubitus
Criteria to rule out intussusception:

Air visualized in ascending colon in each view and transverse colon on supine

Sensitivity 100% (95% CI, 79.1-100)
Specificity 17.4%
Negative predictive value 100% (95% CI, 79.1-100)

2-view abdominal x-ray with air in the ascending colon

Sensitivity 89.5% (95% CI, 75.7-100%)
Specificity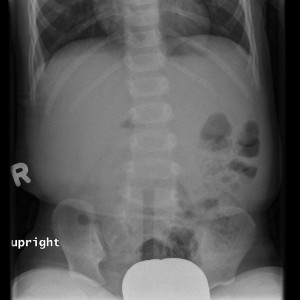 Ultrasound
Ultrasound is often a definitive study for intussusception given it has a high sensitivity/specificity, is non-invasive, and does utilize ionizing radiation. Although classically performed by radiology, the use by emergency physicians is increasing.3-7
Linear, high-frequency (5-10 MHz) transducer
Child is placed supine in a position of comfort
Technique 1

Follow the ascending to transverse colon
Transducer placed in the right lower quadrant with indicator oriented toward the patient's right side
Sweep the probe superiorly along the right side of the abdomen
Upon reaching the right upper quadrant the indicator should be oriented toward the patient's head.
*Make sure to search carefully in the RUQ since this is where the majority of intussusceptions may be found (80%)
Sweep the probe laterally toward the epigastrium

Technique 2 – "Lawnmower"

Scan the entire abdomen in a systemic manner, up and down like a lawnmower

Once the intussusception is found it should be imaged in the transverse and longitudinal views
Findings

Soft tissue mass in right mid abdomen
Transverse cut: "target" or "donut" sign
Longitudinal cut: "cresecent"sign or "pseudokidney" sign
https://youtu.be/o0kyD9ZmD4I
Radiology8

Sensitivity: 98-100%
Specificity: 88-100%

POCUS7

Sensitivity: 85 % (95 % CI 54, 97 %)
Specificity: 97 % (95% CI 89, 99 %)
Take Away Points:
In children with a low suspicion for intussusception 3-view abdominal x-rays may help rule out the diagnosis
Ultrasound for intussusception is sensitive and specific
References
Mandeville K, Chien M, Willyerd FA, Mandell G, Hostetler MA, Bulloch B. Intussusception: clinical presentations and imaging characteristics. Pediatr Emerg Care. 2012;28(9):842-844.
Roskind CG, Kamdar G, Ruzal-Shapiro CB, Bennett JE, Dayan PS. Accuracy of plain radiographs to exclude the diagnosis of intussusception. Pediatr Emerg Care. 2012;28(9):855-858.
Doniger SJ, Salmon M, Lewiss RE. Point-of-Care Ultrasonography for the Rapid Diagnosis of Intussusception: A Case Series. Pediatr Emerg Care. 2016;32(5):340-342.
Halm BM, Boychuk RB, Franke AA. Diagnosis of intussusception using point-of-care ultrasound in the pediatric ED: a case report. Am J Emerg Med. 2011;29(3):354 e351-353.
Marin JR, Abo AM, Arroyo AC, et al. Pediatric emergency medicine point-of-care ultrasound: summary of the evidence. Crit Ultrasound J. 2016;8(1):16.
Riera A, Hsiao AL, Langhan ML, Goodman TR, Chen L. Diagnosis of intussusception by physician novice sonographers in the emergency department. Ann Emerg Med. 2012;60(3):264-268.
Applegate KE. Intussusception in children: evidence-based diagnosis and treatment. Pediatr Radiol. 2009;39 Suppl 2:S140-143.