The Right Ventricle
The right ventricle (RV) has been getting more coverage lately from the Wilcox et al review article in Annals to the continued coverage in many critical care circles where anesthesia and emergency medicine overlap.(1)  Furthermore, the increased presence of VADs and physiology-centric thinking in the resuscitation units of the ED require facility with manipulation of the RV.
Danger with Positive Pressure
The RV's lower pressures, structural design, and interdependence with the left ventricle (LV) create unfavorable hemodynamic interactions for the RV and positive pressure ventilation.(2) Most easily appreciated when separating preload and afterload, the conceptual challenge with positive pressure is seen in the following diagram from derangedphysiology.com. Intrathoracic pressure from either non-invasive or mechanical ventilation decreases RA preload and increases RV afterload. Proceed with caution when intubating pulmonary hypertension or RV failure patients.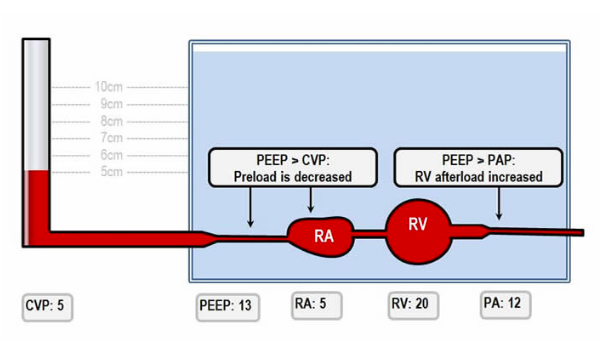 Structure
Anatomically, the RV is crescent-shaped in longitudinal cross-section and triangular in axial cross-section. The deep longitudinal fibers of the RV pull it from apex to base of the heart. Additionally, there is small contribution from inward motion of the RV free wall as well as left ventricular traction on the RV.
Ventricular Interdependence
Compared to the LV, the RV's thin wall and lower resistance circuit means it contracts throughout systole; it has no isovolumic relaxation phase. Any acute rise in right sided pressures (e.g. PE, tamponade, RV infarct) push the septum to the left, impairing LV diastolic filling and contractility.
References
Wilcox SR, Kabrhel C, Channick RN. Pulmonary Hypertension and Right Ventricular Failure in Emergency Medicine. Ann Emerg Med. 2015;66(6):619-28.
Deranged Physiology: Effects of Positive Pressure Ventilation on Cardiovascular Physiology. Deranged Physiology. http://www.derangedphysiology.com/main/core-topics-intensive-care/mechanical-ventilation-0/Chapter%202.1.7/effects-positive-pressure-ventilation-cardiovascular-physiology. Accessed March 14, 2017.
Ibrahim BS. Right Ventricular Failure. European Society of Cardiology. https://www.escardio.org/Journals/E-Journal-of-Cardiology-Practice/Volume-14/Right-ventricular-failure. Published December 12, 2016. Accessed March 14, 2017.