This young woman presents to your Emergency Department with a history of cramping, abdominal pain and vaginal bleeding today.
A urine pregnancy test is positive..  The following ultrasound image is obtained.  What do you tell the patient?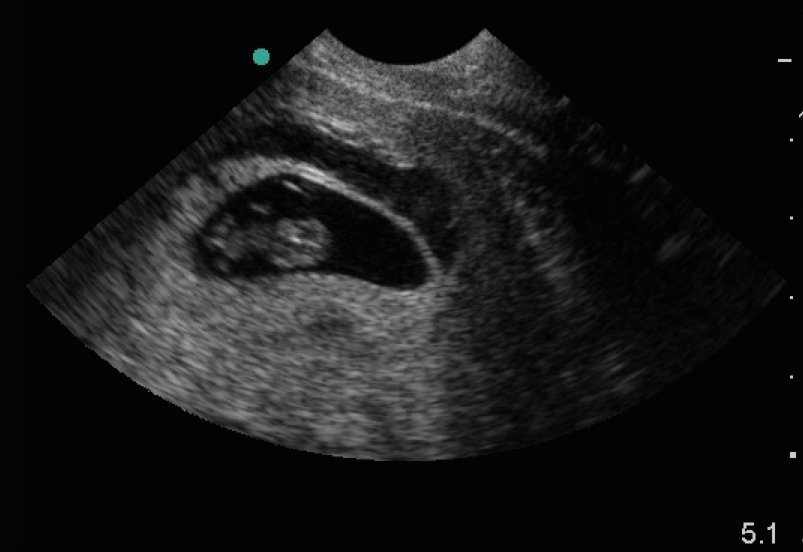 This image reveals an intrauterine pregancy with subchorionic hemorrhage.  There is an increased risk of loss of pregnancy when this is noted.  The patient should be counseled regarding this possibility.
Remember, for any patient with first trimester bleeding or first trimester abdominal pain:
These patients have an ectopic pregnancy until proven otherwise
Ectopic pregnancy can occur at

any

hCG range
Scan RUQ first to assess for obvious free fluid in the abdomen
Save images of the ENTIRE uterus – you must assess for free fluid behind the uterus
You must document at least two images – Transverse and Longitudinal
Perform a transabdominal scan before transvaginal.  You'll speed your workflow in cases where the IUP is visible, and avoid embarrasing transvagional scans on patients in the 2nd-3rd trimester!  Embarrassing for you, because you shouldn't be doing TV scans in that group (risk of infection, cervical trauma, bleeding if there's low placenta, etc.)  Transvaginal images of 2nd-3rd trimester pregnancies are the cousins of the infamous CXR of tension pneumothorax.
Thanks to Anjali for presenting this case at conference.  More images of subchorionic hemorrhage: