X-Ray Stinks #1: Finger Injury

In this new series we will highlight cases where ultrasound proved more useful than x-ray.
A seven year old boy presented with distal phalanx pain, tenderness after a fall.
The following x-ray was performed: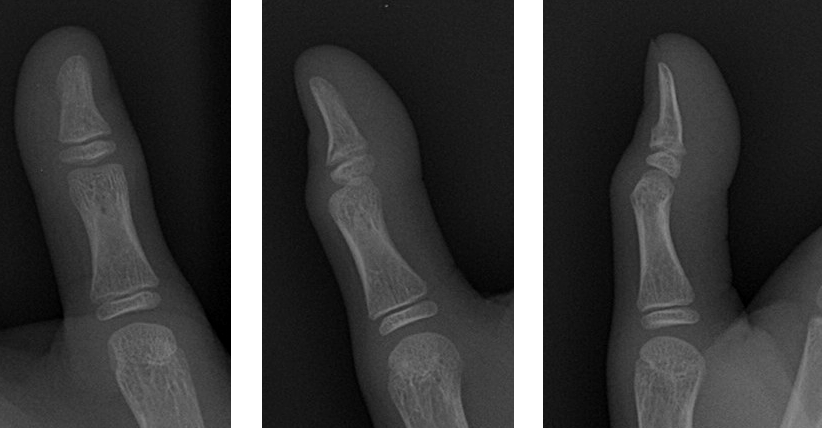 What is your diagnosis? Can ultrasound help? How would you perform an ultrasound on such a superficial structure?
The following ultrasound of the distal finger was performed (probe marker towards fingertip):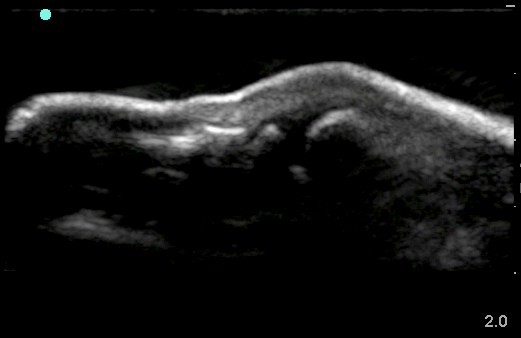 What is your diagnosis now?The x-ray was read as "no fracture" initially, though a cortical irregularity at the base of the distal phalanx was picked up by the attending radiologist.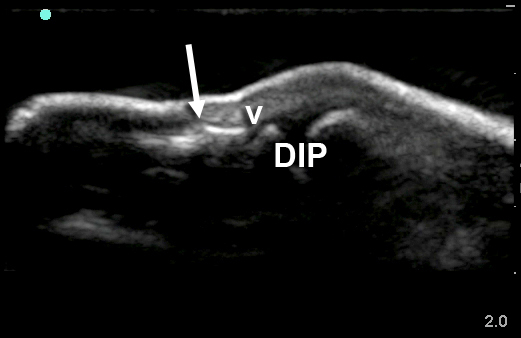 The ultrasound more clearly demonstrates a cortical disruption (arrow). This is not to be confused with the growth plate (v) or the DIP joint (DIP). A water bath was used to obtain the ultrasound images.
The patient was splinted and appropriate follow up was arranged. Thanks to Jim Tsung for the images!
References:
Tayal VS, Anotoniazzi J, Pariyadath M, Norton HG.  Prospective use of ultrasound imaging to detect bony hand injuries in adults.  J Ultrasound Med. 2007 Sep;26(9):1145-8. (PMID: 17715307)
Weinberg ER, Tunik MG, Tsung JW.  Accuracy of clinician-performed point-of-care ultrasound for the diagnosis of fractures in children and young adults.  Injury. 2010 May 11 Epub (PMID: 20466368)