We do a lot of diagnostic taps at our shop. People need to take better care of their livers. Here's a tip for your next tap.
I recently encountered a very obese cirrhotic patient who required a diagnostic tap. He had several very deep pockets that were amenable for tapping on bedside ultrasound. The problem was that he had over 5cm of subcutaneous fat overlying it. None of the standard needles were long enough to penetrate through, so what's a guy to do?
Use a spinal needle.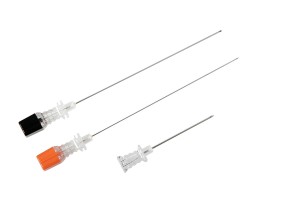 You can use a 3.5 inch spinal needle from the lumbar puncture tray (we actually have them loose individually in our ED as well). Attach just the needle portion to a 60cc syringe just like you normally would and poke away. You likely won't need to hub it, so be careful and continue to hold negative pressure as you advance. Keep in mind that the needle will be 22 gauge or somewhere around there, so you may need to pull hard to get fluid coming.
Happy tapping out there!
Sources
Tintinalli
Uptodate
My experience yesterday