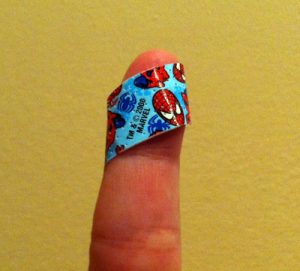 Hopefully you are using ultrasound to guide your insertion of central venous catheters. Once they are in, you still have to suture them at some point. Straight suture needles are often used to secure arterial and venous catheters to the skin. These types of suture needles have been demonstrated to be more dangerous than curved or blunt suture needles, with up to seven times higher rate of injury for health care workers. By utilizing the plastic needle sheath present in most central venous line kits as a "thimble," counter pressure and skin puncture may be achieved without bringing the fingers near the sharp end of the suture. Here's an image from Bret Nelson's article on the technique.
Panel A shows counter-pressure being applied with the cap to direct the tip of the needle. Panel B shows the needle tip safely sheathed within the cap.
The video below demonstrates this technique in real time:
Safety technique for straight suture needle from Sinai EM Ultrasound on Vimeo.
Other authors have illustrated alternative techniques to reduce the risk of self-injury when using straight suture needles. Â Steven Bauer uses a 5-mLÂ syringe to ensconce the emerging straight needle. This can provide even more distance, and he also uses it to guide tying an 'air knot' when needed!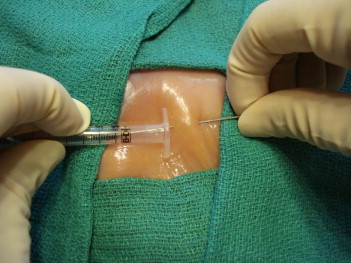 Haney Mallemat has just posted a video where he demonstrates using the paper envelope the suture is packaged in to distance the needle tip from your fingers.
Keep in mind NONE of these techniques has been studied- there is no evidence that they reduce needlesticks. We DO know that using curved, blunt-tip suture needles used with needle drivers and forceps is safer than using straight sutures. Whichever method you use please be careful!
References
Nelson BP. Making straight suture needles a little safer: a technique to keep fingers from harm's way. J Emerg Med. 2008 Feb; 34(2):195-7. Epub 2007 Oct 1. (PMID: 18282537)
Bauer S, Tauferner D, Carlson D. Improving straight needle safety: an alternate method. J Emerg Med. 2011 Jul; 41(1):e19-20. Epub 2009 Sep 17. (PMID: 19765943)
Centers for Disease Control and Prevention. Evaluation of blunt suture needles in preventing percutaneous injuries among healthcare workers during gynecologic surgical procedures—New York City, March 1993–June 1994. MMWR Morb Mortal Wkly Rep 1997;46:25–9. (PMID: 9011779)
Edlich RF, Wind TC, Hill LG, Thacker JG, McGregor W. Reducing accidental injuries during surgery. J Long Term Eff Med Implants 2003;13:1–10. (PMID: 12825744)