SBO you say? 6-infinity hours until dispo?! Sometimes it feels like you want to just rub a lamp and all your dispo decisions would be granted!
Maybe it can!? Enter SBO and ultrasound!
What are you looking for on US? (Westafer & Faust 2015)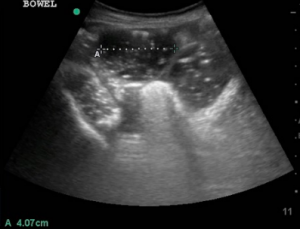 [Chao & Gharahbaghian]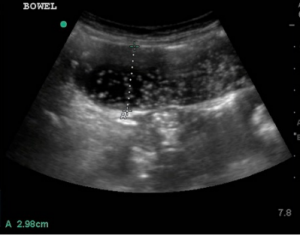 [Chao & Gharahbaghian]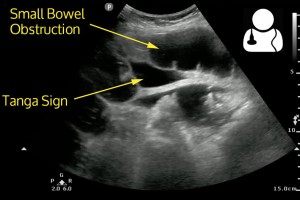 [Avila UOTW#20]
Dilated loops of bowel > 2.5 cm in diameter in general but more specifically >2.5cm for jejunum and >1.5cm for ileum; while bowel distal to obstruction appears collapsed
"To and fro" peristalsis on motion: decreased peristalsis
The piano key sign: plicae circulares in the jejunum
Tanga sign: triangular shaped fluid collections between loops of bowel
When to worry about small bowel ischemia? look for free fluid in bowel, no peristalsis, >3mm bowel wall thickening
How is it performed? http://5minsono.com/sbo/
Select high frequency probe approx 3-5 MHz in large adults: Curvilinear, phased array, linear probe (skinny patients)
"mowing a lawn" technique-move the probe up and down over abdomen (Probably better to watch video)
What does the literature say?

[Foamcast SBO 2015]
Ulner et al 2010 looked at 174 patients in ER and found 52% had dx of SBO based on US and 48.3% had dx of SBO based on surgical pathology; 2.3% false positives on abd CT
Jang et al 2011 performed a prospective study in 76 ED patients w/ suspected SBO with plans for CT. Residents were given a 10 minute tutorial and 5 practice scans for SBO before performing it on the patients. A positive scan was found in 43% of patients.  Sen&Spec for dilated bowel: 91%/84%;  Sen&Spec for decreased peristalsis: 98%/27%
Taylor & Lalani 2013 performed a systematic review on the epidemiology of SBO in the ED and found that US although fewer studies was found to be superior to all other forms of imaging! [ +LR of 14.1 (95% CI = 3.57 to 55.66) and –LR of 0.13 (95% CI = 0.08 to 0.20) for formal scans and a +LR of 9.55 (95% CI = 2.16 to 42.21) and a –LR of 0.04 (95% CI = 0.01 to 0.13) for beside scans.]
RECAP:
May provide rapid time to dispo for patient in ER
Differentiating between ileus and obstruction difficult to discern on US
Seeing dilated bowel may be more accurate for diagnosis than decreased peristalsis or intraperitoneal free fluid individually but having all 3 is even better!
Sources:
Avila, J. http://www.ultrasoundoftheweek.com/uotw-20-answer/
Alerhand, S.  & Koyfman, A. Ultrasound for small bowel obstruction. 2014. http://www.emdocs.net/ultrasound-small-bowel-obstruction/
Lin, M. Small bowel obstruction: Diagnosis by ultrasonography. 2014. https://www.aliem.com/2014/small-bowel-obstruction-diagnosis-ultrasonography/
Westafer, L & Faust, J. 2015. Episode 23: SBO and Mesenteric Ischemia. http://foamcast.org/tag/small-bowel-obstruction/
Unluer EE, Yavasi O, Erogul O, Yilmaz C, Akarca FK. Ultrasonography by emergency medicine and radiology residents for the diagnosis of small bowel obstruction. Eur J Emerg Med. 2010; 17:260–4.
Avila, J. Small Bowel Obstruction. http://5minsono.com/sbo/
Jang, T.B., D. Schindler, and A.H. Kaji, Bedside ultrasonography for the detection of small bowel obstruction in the emergency department. Emerg Med J, 2011. 28(8): p. 676-8.
Taylor MR, Lalani N. Adult Small Bowel Obstruction. Acad Emerg Med. 2013;20:528-44.
Chao, A. & Gharahbaghian, L. Tips and Tricks: Clinical Ultrasound for Small Bowel Obstruction – A Better Diagnostic Tool? https://www.acep.org/content.aspx?id=100218
Kirschner, D. Sounding the Bowel. 2015. http://www.emresident.org/sounding-the-bowel/
*Shoutout to Taryn and Hayley for picking this up in a patient yesterday!