Clinical Scenario:  A 66-year-old male with a past medical history of traumatic brain injury and frequent urinary tract infections sent from his nursing home with hypernatremia. On a routine blood draw he was found to have hypernatremia to 160. His mental status is unchanged. How do you correct his hypernatremia?
Hypernatremia is caused by
Excessive water loss: gastrointestinal tract (vomiting or diarrhea), sweating, or urination, renal, third spacing (loss of hypotonic fluid)

Signs: dry mucous membranes, decreased skin turgor, orthostatic changes

Hypertonic sodium gain (iatrogenic)

Often causes acute hypernatremia
Steps to correct
STEP 1: Calculate water deficit
TBW = lean body weight x %

Young: 60% male or 50% female
Elderly: 50% male or 45% female

Calculate water deficit

STEP 2: Choose rate of correction
Acute hypernatremia (<48 hours)

Goal to lower acutely to 145mmol/L within 24 hours

Chronic hypernatremia (>48 hours)

Goal lower maximum 10mEq/L in 24 hours (0.5mEq/L/hour)
The rate should not exceed this to avoid cerebral edema
Re-check sodium every 2 hours
Step 3: Calculate Fluid Repletion
Acute (< 48 hours)

Hourly infusion rate (mL/hour) > water deficit in mL/24 hours

Chronic (> 48 hours)
1. Pick infusate based on volume status. More hypotonic solutions require less volume.
Free water via oral or peg tube if mentating well
D5, 1/4 NS, or 1/2 NS if unable to take by mouth
Only use normal saline if the patient is hypotensive, orthostatic, or with frank hemodynamic compromise.
2. Calculate change in serum sodium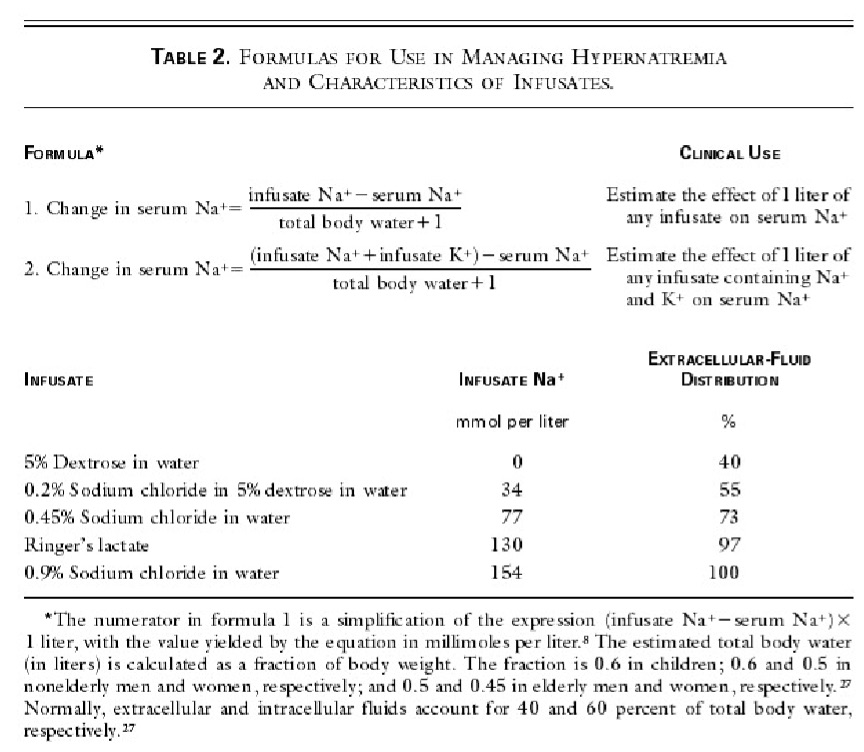 3.  Calculate the infusion rate
Infusion rate (L/d) = Target change in serum Na / Calculated change in serum Na = 10mEq/L / Calculated change in serum Na
Account for insensible losses by adding 1 L/day and you get the infusion volume/day

Back to the case… this was CHRONIC hypernatremia
Step 1:
TBW = lean body weight x 50% = 70kg x 50% = 35kg
Water deficit = TBW x (Serum [Na]/140 – 1) = 35 x (160/140 – 1) = 5 L
Step 2:
Goal: 0.5mEq/L/hour or 10mEq/L/day
Step 3: In this case we will use 0.45% NaCl as the patient is moderately hypovolemic
Change in serum Na = (infusate Na – serum Na)/(TBW +1) = (77-160)/35 + 1) = -2.3 mmol
1/2NS infusion rate = 10mEq/L / 2.3 mEq = (4.34 L + 1L)/24 hours = 220 mL/hour
Or… alternatively you can use MDCalc …Free Water Deficit or Sodium Correction

References/Additional resources (Accessed 12/30/16)
Adrogue HJ, Madias NE. Hypernatremia. N Engl J Med. 2000;342(20):1493-1499.
If you prefer podcast form http://emcrit.org/podcasts/hypernatremia/
Free water deficit calculator http://www.mdcalc.com/free-water-deficit-hypernatremia/
Sodium correction in hyper/hyponatremia http://www.mdcalc.com/sodium-correction-rate-hyponatremia-hypernatremia/