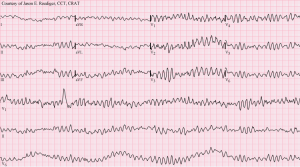 By Jer5150 – Own work, CC BY-SA 3.0, https://commons.wikimedia.org/w/index.php?curid=19669589
Pearl: In cardiac arrest, consider esmolol (500mcg/kg loading dose, then 0-100mcg/kg/min drip) for refractory ventricular fibrillation.
Background: Ventricular fibrillation is one of our two "shockable" rhythms and is supposed to portend a better cardiac arrest outcome. But what if your patient is refractory to standard treatment (defibrillation, amiodarone, lidocaine) either by never exiting v-fib or by returning to v-fib immediately? Aside from dual-synchronous defibrillation, which is not yet a data-driven technique, to we have any other tools in our back pocket?
Explanation: There is some data, retrospective and non-randomized, to support improved outcomes with the infusion of esmolol to patients in refractory v-fib cardiac arrest. Two studies, one at Hennepin County (1) and one in Korea (2) both retrospectively analyzed patients in refractory v-fib arrest (defined as at least 3 shocks in both, amiodarone was also required by Hennepin). At Hennepin, sustained ROSC was 100% better and survival to discharge was 300% better, but no p-values were provided. In the Korean study, 56% in the esmolol group achieved sustained ROSC vs 16% in the non-esmolol group (p 0.007). There are also some pig model studies that support esmolol reducing the rate of v-fib recurrence after treatment (3,4)
Bottom Line: There are no randomized or large studies, but if your patient will not come out of ventricular fibrillation, consider giving esmolol as a bolus (500mcg/mg/kg) followed by an infusion.
(1) Driver BE1, Debaty G2, Plummer DW3, Smith SW3. Use of esmolol after failure of standard cardiopulmonary resuscitation to treat patients with refractory ventricular fibrillation. Resuscitation. 2014 Oct;85(10):1337-41. doi: 10.1016/j.resuscitation.2014.06.032. Epub 2014 Jul 14.
(2) Lee YH1, Lee KJ2, Min YH3, Ahn HC4, Sohn YD5, Lee WW6, Oh YT7, Cho GC8, Seo JY9, Shin DH10, Park SO11, Park SM12. Refractory ventricular fibrillation treated with esmolol. Resuscitation. 2016 Oct;107:150-5
(3) Jingjun L1, Yan Z, Weijie, Dongdong Z, Guosheng L, Mingwei B.Effect and mechanism of esmolol given during cardiopulmonary resuscitation in a porcine ventricular fibrillation model.Resuscitation. 2009 Sep;80(9):1052-9.
(4) Wallis DE1, Wedel VA, Scanlon PJ, Euler DE.Effect of esmolol on the ventricular fibrillation threshold.Pharmacology. 1988;36(1):9-15.