Overdose and EKGs they start to all look the same…widened QRS, that thing in aVR…vfib (hopefully not). Here's a highlight of key EKG findings associated with a few toxidromes: (1) Bupropion overdose (2) TCA overdose (3) Digoxin Toxicity
Bupropion Overdose:
See wide-complex tachydysrhythmias-widened QRS and QT intervals; case reports have shown cardiogenic shock
Consider in the patient who is seizing and was trying to quit smoking (primarily used for nicotine suppression)
See seizures approx. 2-8hrs after toxic ingestion but can see up to 24hrs later
May try NaHCO3 but probably will not work, mainstay for therapy is supportive care
TCA Overdose:
QRS widening >100ms associated with seizures; >160ms associated w/ cardiac dysrhythmias
Terminal R wave >3mm in aVR
R/S ratio >0.7 in aVR
RBBB pattern
Tachy
Can also see sedation, seizures, hypotension…
Management includes NaHCO3 increases amount of non-ionized form and decrease binding to Na channels

Scott Weingart's target:  QRS duration <100, hemodynamically stable, Na ~150, pH ~7.5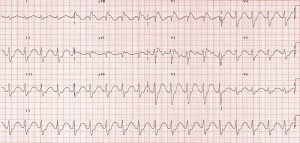 Digoxin Toxicity
Chronic toxicity usually found in the elderly and those patient w/ renal impairment
AV nodal block, Bradycardia, tachyarrhythmias-junctional tachy, atrial tachy, ventricular ectopia
ST-T segment has a scooped appearance like "Salvador Dali's mustache" or "reverse check mark"
GI distress, hyperkalemia
Tx: Digibind for: cardiac arrest, life-threatening dysrhythmias, K>5mmol, >10mg ingested (adult), >4mg ingested, Dig level >12ng/ml
Manini et al 2010 Reviewed EKG findings in suspected acute poisoning and the incidence of adverse cardiovascular events (ACVE) and found that non-sinus rhythm, prolonged QTc, ventricular ectopy, QT dispersion (QT interval minus minimum QT interval in different leads), and presence of ischemia correlated w/ risk of ACVE.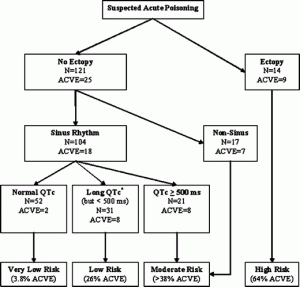 RECAP:
Bupropion toxicity-widened QRS, seizures probably not responsive to NaHCO3
TCA Toxicity-terminal R in aVR, widened QRS, tachyarrhythmias, RBBB, hopefully responds to NaHCO3
Digoxin-"reverse check mark sign"/"Salvador Dali mustache"-ST-T segment scooping, AV nodal block
Manini et al 2010 suggested key findings such as prolonged QTc and non-sinus rhythm as findings associated w/ adverse cardiac events
Sources:
Bupropion. http://lifeinthefastlane.com/tox-library/toxicant/anti-depressants/bupropion/
Weingart, S. Podcast 98. Cyclic (Tricyclic) Antidepressants Overdose
Digoxin Toxicity. 2014. http://lifeinthefastlane.com/ccc/digoxin-toxicity/
Manini, A. F., Nelson, L. S., Skolnick, A. H., Slater, W., & Hoffman, R. S. (2010). Electrocardiographic predictors of adverse cardiovascular events in suspected poisoning. Journal of Medical Toxicology, 6(2), 106-115.