Aortic dissections are insidious killers that are often undetectable by history and physical exam alone. Obviously, providers must have a high index of suspicion for these as their presentations are highly variable. CT angiography, and less often, transesophageal echocardiography are classically the diagnostic modalities that providers use to identify this rare, deadly diagnosis. However, getting a patient over to CT can sometimes be delayed whether it is for transportation, or stabilizing the patient before CT scan.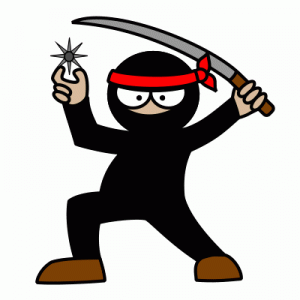 Case:
A 73 year old lady with only a past medical history of hypertension that presented to our emergency department with intermittent focal left upper extremity numbness and weakness, and bilateral lower extremity pain. She presented hypotensive and tachycardic. The astute clinician had a high index of suspicion of dissection and while the patient was getting prepared to go to CT scan obtained the following clip of the parasternal long axis of the heart:
It is obvious here that the aortic outflow tract is dilated (usually, it should be the size of the left atrium).
Then the physician obtained a suprasternal view of the aortic arch and obtained the following clip:
Then, given the focal neurologic symptoms, she got the following images of the right carotid, in which you can see an intimal flap and also more distally, a blood clot in the carotid:
To investigate the distal extension of the clot, the following views were obtained of the abdominal aorta with an actual intimal flap:
Finally, at the level of the bifurcation, extension of the dissection into the bilateral iliacs is visualized
CT surgery was notified before the CT scan and the patient was taken directly from the CT scanner (which revealed the image below) to the OR..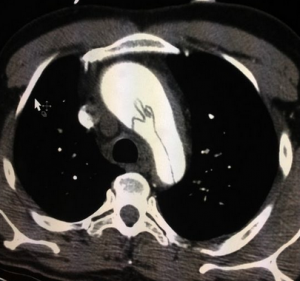 Tips on POCUS for aortic dissection:
A parasternal long axis view can be helpful to visualize a dilated aortic root and/or a pericardial effusion in the setting of a suspected dissection
Evaluating carotid arteries, the distal aorta, or the iliac arteries can help diagnose an extensive dissection.
Point of care ultrasound should be used to quickly make a diagnosis, speed further imaging, or get a consultant involved expeditiously. Similar to much of what we do with point of care ultrasound, this tool should be used to rule in a diagnosis, rather than to rule out a diagnosis.
Point of care ultrasound can be used to make a quick diagnosis at the bedside before more consultative imaging, making it an invaluable tool in identifying this covert killer.