In 2016, ACEP published "Clinical Policy: Critical Issues in the Evaluation of Adult Patients with Suspected Transient Ischemic Attack (TIA) in the Emergency Department" in the Annals of EM. Here is a brief refresher.
Transient ischemic attack (TIA) is a part of a spectrum of ischemia affecting the central nervous system.
"Transient episode of neurologic dysfunction caused by focal brain, spinal cord, or retinal ischemia, without acute infarction." – The American Heart and Stroke Associations

Most TIAs are thought to last fewer than 1-2 hours.

Currently there is no specific acute intervention for patients with TIA; the goal is to reduce the potential for future strokes.
TL;DR Summary (more detail below)
In addition to working in collaboration with your neurology colleagues, the next time you treat a patient suspected of having a TIA, follow these ACEP clinical recommendations:
Do not discharge the patient.

Do not delay neuroimaging.

Consider ED observation for patients without high-risk conditions* to evaluate those at short-term risk for stroke.
Are there clinical decision rules that can identify patients at very low short-term risk for stroke who can be safely discharge from the ED?
Do

not

rely on existing risk stratification instruments (ex – ABCD2 score

) to identify TIA patients who can be safely discharged.

Level B recommendation
In adult patients with a suspected TIA, what imaging can be safely delayed from the initial ED workup?
The safety of delaying neuroimaging from the initial ED workup is unknown. If noncon brain MRI is not readily available, it is reasonable for physicians to obtain a noncontrast head CT as part of the initial TIA workup to identify TIA mimics (ICH, mass lesion). However, NCHCT should not be used to identify patients at high short-term risk for stroke.

Level C recommendation
Is carotid ultrasonography as accurate as neck CTA or MRA?
Carotid US may be used to exclude severe carotid stenosis because it has accuracy similar to that of MRA or CTA.

Level C recommendation
Can a rapid ED-based diagnostic protocol (ex, ED observation unit) safely identify patients at short term risk for stroke?
In adult patients with suspected TIA without high-risk conditions*, a rapid ED-based diagnostic protocol may be used to evaluate patients at short-term risk for stroke.   

High risk conditions: abnormal initial CT, suspected embolic source, carotid stenosis, previous large CVA, or crescendo TIA
Level B recommendation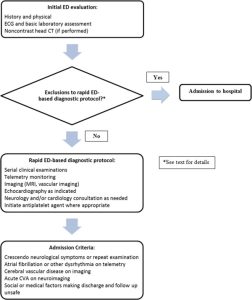 An example of a rapid ED-based diagnostic protocol
You can download and read the entire clinical policy here:  https://www.acep.org/Physician-Resources/Policies/Clinical-policies/Clinical-Policy-Suspected-Transient-Ischemic-Attack/