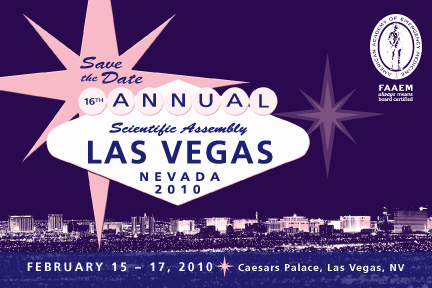 The American Academy of Emergency Medicine will host its 16th annual scientific assembly from February 15-17 in Las Vegas at Caesars Palace.  An innovative pre-conference course on emergency ultrasound will be held on February 14th. If you will be attending the AAEM assembly, or consider an ultrasound course to be a good prelude to a romantic evening with that special someone, please consider registering for the course!  A detailed course description for this CME course can be found here.
The course director, Michael Lambert, MD, RDMS,  has assembled outstanding ultrasound faculty from both the States and abroad to provide a unique experience for registrants.
Bret Nelson will join the faculty for this innovative course, which will offer registrants the ability to create their own customized experience. SEVENTEEN possible modules, including:
FAST
Cardiac
Aorta
Renal
Venous access
Gastrointestinal
Nerve blocks
Head and Neck
Endovaginal OB/Gyn
Thoracic ultrasound
Billing and coding
and many more
All of the lectures will be provide on-line to registrants prior to the course. This will optimize the hands-on scanning time during the course.  The organizers understand that your schedules will be packed while you are in Vegas, so not only can you choose which modules to participate in, you can also decide whether a half-day (three modules) or a full-day (six modules) would work best for you.
More information regarding course content and registration is available at the AAEM Scientific Assembly website.