Case – 26M with no medical history presents with chest pain and palpitations. He states that he passed out while walking. He denies associated symptoms or family history of sudden cardiac death. ECG:
Question – What are the ECG abnormalities noted here? Diagnosis and Workup?
________________________________________________________
Answer – Arrhythmogenic RV Dysplasia. This is the second most common cause of sudden cardiac death in young people.
Facts:
Physiology – RV myocardium is replaced by fibrofatty tissue that leads to conduction system abnormalities. Symptoms are caused by provoked ventricular beats or ventricular tachycardia.
Symptoms – Consider this diagnosis in a young patient presenting with syncope, VT, CHF or new onset RV-Failure.
ECG Findings – in general the ECG is not sensitive for this diagnosis, but there are some pathognomonic findings:

Epsilon Waves (30% of cases) – low-amplitude electrical potentials occurring at the end of the QRS and the beginning of the ST segment. Highly specific for ARVC and reflect

delayed RV activation.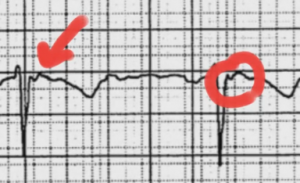 TWI in V1-V3 (54-85%)

QRS prolongation V1-V3 (>110 ms)
Workup:

Echo – may demonstrate a dilated, hypokinetic RV with prominent apical trabeculae
Cardiac MRI – evaluates for fibrofatty infiltration and thinning of the RV myocardium, RV aneurysms, RV dilatation, regional wall motion abnormalities.

May require endocardial biopsy (notable for fibrofatty replacement of RV myocardium).

Treatment:

Short-Term – use amiodarone, beta-blockers (sotalol preferred) to suppress ventricular arrhythmias.

Long-Term – EP consult, ICD placement +/- radiofrequency ablation.
Thanks to Dr. Taryn Webb for inspiring this post.
Sources: