Balloon tamponade is an effective way to achieve short-term hemostasis in patients with bleeding esophagogastric varices. Due to complications and rebleeding upon balloon deflation, balloon tamponade is reserved for temporary stabilization of patients until more definitive treatment can be instituted (i.e stent placement or TIPS)
Initial control of variceal bleeding with balloon tamponade has been observed in 30 to 90 percent of patients in a number of reports. The variability in success rates is likely due to patient selection, the concomitant use of other types of therapy, and experience of the staff in using these tubes.
The Sengstaken-Blakemore Tube consists of two balloons. One 250cc gastric balloon connected to a gastric inflation port, an esophageal balloon connected to an esophageal inflation port, and a gastric aspiration port.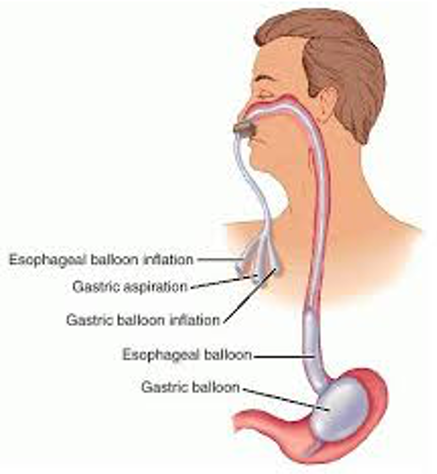 Before placementof your Sengstaken-Blakemore tube, your patient should be intubated to prevent aspiration. As this is only a temporizing measure, other services (GI, ICU, Maybe IR) should be notified and start mobilizing for definitive management.
Equipement
Sengstaken-Blakemore Tube
60 cc syringe
Salem Sump
Kelly Clamp
2 Three-way stopcocks with caps
Lubricant
Manometer
Water
Sharpie
Suction to Salem Sump Adapter
Kirlex
1L NS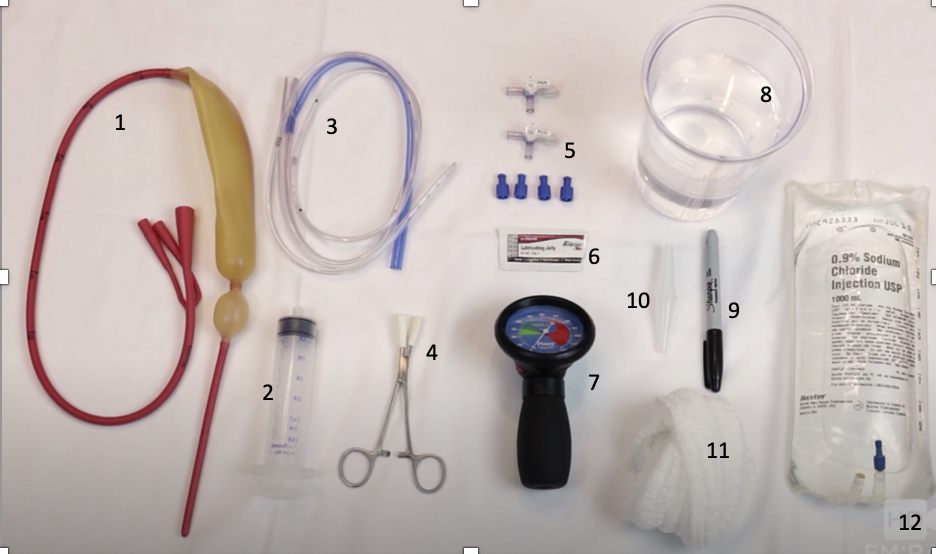 Step 1: Remove the white caps from the gastric and esophageal inflation ports using your Kelly clamp. Test you balloons by placing them in the water and inflating them using your syringe, check for leaks by observing if there are bubbles coming from the balloons. Place your three-way stopcocks on your esophageal and gastric inflation ports.
Step 2: Measure your Salem sump. Line your Salem sump up with the top of the gastric balloon, and at the 50 cm mark on your Blakemore tube, mark your Salem sump with a G (this marks the top of your gastric balloon. Next measure your Salem sump from the top of the esophageal tube to the 50cm mark on your Blakemore tube, mark the Salem Sump with an E.
Step 3: Lubricate your Blakemore tube and insert it to 50cm. You can inject air through the gastric aspiration port and auscultate. If you think you are in the stomach, inject 50cc of air into the gastric balloon.
Step 4:  Get a chest x-ray to confirm placement. The balloon should be under the diaphragm.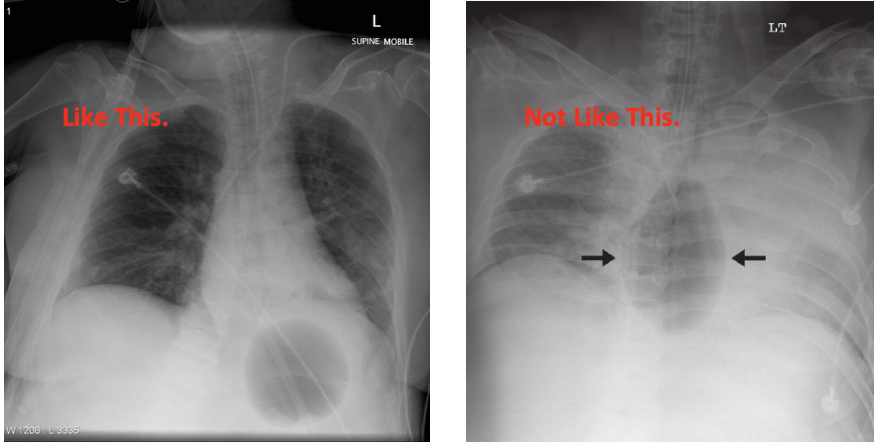 Step 5: If your Blakemore tube is in the correct position, inject another 200cc into the gastric balloon, turn the three-way stopcock to OFF towards the patient, place your caps on the remaining ports.
Step 6: Provide traction by tying your Kirlex to the end of your Blakemore tube, and the NS bag to the other end. Drape the NS bag over an IV pole. This provides 1 kg of traction at the gastric-esophageal junction.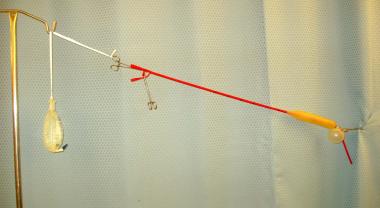 Step 7: Suction out the remaining gastric contents through the gastric aspiration port. You may need to irrigate if there are clots.
Step 8: Test if there is continued bleeding above the GE junction by placing your Salem sump until the G lines up with the 50cm mark on your Blakemore tube (just above your gastric balloon). Clamp your gastric aspiration port and switch your suction over to the Salem sump. If there is still lots of bleeding, continue to step 9.
Step 9: Pull your Salem sump back until the E lines up with the 50cm mark on your Blakemore tube (Just above your esophageal tube). Attach your manometer to the three-way stopcock on your esophageal balloon, and inflate until you reach 30 mm Hg. Continue to suction through your OG. If bleeding continues you can increase the pressure of your esophageal balloon to 45 mm Hg. Turn the three-way stopcock OFF towards the patient and remove the manometer. Place your caps on the remaining stopcock ports.
After your Sengstaken-Blakemore tube is placed, it can be left for 24-48 hours (ideally less than 6 hours). The Esophageal balloon should be deflated and check for residual bleeding at least every 12 hours. If bleeding has stopped, leave the tube in place while deflated, and re-inflate quickly if bleeding restarts. Complications from Sengstaken-Blakemore tube placement include esophageal rupture, necrosis and rebleeding. Serious complications are seen in at least 14% of Blakemore tube placements.