Nebulized Ketamine for Pain
Written by Erena Weathers
Dear ketamine enthusiasts
Ever wonder why there aren't more ways to give your patient this wonderful drug? Well here's one more route of administration that is easy and clinically relevant. You know about IV and IM, but did you know you can nebulize ketamine for therapeutic benefit?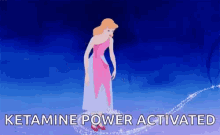 Drapkin J, Masoudi A, Butt M, Hossain R, Likourezos A, Motov S. Administration of Nebulized Ketamine for Managing Acute Pain in the Emergency Department: A Case Series. Clin Pract Cases Emerg Med. 2020;4(1):16-20. Published 2020 Jan 2. doi:10.5811/cpcem.2019.10.44582
Population: Five patients, ages 30–54, who presented to the ED with acute painful conditions
Intervention: Ketamine dosing at 0.75 mg/kg (1 pt), 1 mg/kg (1 pt), and 1.5 mg/kg (3 pts) via breath-actuated nebulizer
Comparison: none
Outcome: change in pain score from baseline
Four of the patients had traumatic musculoskeletal pain, and one presented with abdominal pain. All five patients had a decrease in pain from the baseline to 120 min with an average change in pain score of 3.6 at 15 min, 4.6 at 30 min, 6.4 at 60 min, 7.6 at 90 min, and 7.8 at 120 min. Furthermore, only one patient experienced dizziness of modest intensity.
Dove D, Fassassi C, Davis A, et al. Comparison of Nebulized Ketamine at Three Different Dosing Regimens for Treating Painful Conditions in the Emergency Department: A Prospective, Randomized, Double-Blind Clinical Trial. Ann Emerg Med. 2021;78(6):779-787.
Population: 120 adult patients >18yo presenting to the ED with acute or chronic pain with score >5, and warranted use of ketamine analgesia as determined by treating physician
Intervention: Ketamine dosing at 0.75 mg/kg, 1 mg/kg, and 1.5 mg/kg via breath-actuated nebulizer. 40 pts per group.
Comparison: 0.75 mg/kg vs. 1 mg/kg vs.1.5 mg/kg dosing of nebulized ketamine
Outcome:  Difference in pain scores on an 11-point numeric rating scale between all 3 groups at 30 minutes
The authors demonstrated that the administration of inhaled ketamine resulted in a significant reduction in pain across all 3 dosing groups and provided short-term pain relief (up to 120 minutes). 1.5mg/kg of nebulized ketamine did not provide better pain relief in comparison to the 0.75mg/kg and 1mg/kg doses for short-term pain management.
Erena's takeaway: If we don't have IV access on a patient, and it'll take some time to get access, I will consider nebulized ketamine. We do not have the breath-actuated nebulizers (yet, it is being worked on at Elmhurst), it can also be done with normal nebulizers. 
While on shift with Dr. Hill, we tried 1mg/kg of nebulized ketamine for a patient after a fall, and it seemed to help. Only thing is that if you nebulize ketamine with a normal nebulizer, it does start to foam, so I would do half a dose and then another half dose.