Cervical artery dissection (CAD) accounts for 1-2% of all ischemic strokes but 10-25% of strokes in younger individuals.  CAD includes extracranial carotid and vertebral artery dissections.  A review of the literature suggests that there may be a significant risk of recurrence in subsequent years.  At this time, it is unclear whether an anti-platelet or anticoagulation therapy is more effective at preventing recurrence.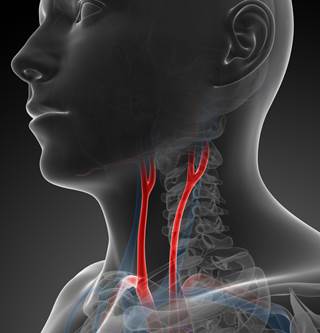 Markus et al. recently reported the results of the Cervical Artery Dissection in Stroke Study (CADISS trial) in JAMA Neurology.  They examined 250 patients with CAD and randomized approximately half to aspirin, plavix, dipyridamole, or some combination and the other half to warfarin w/ heparin bridging (NOACs were not used).
The risk of recurrence at 1 year was 2.4% and no difference was observed between the antiplatelet group and the anticoagulation group.  It's important to note that there was no control group (i.e. placebo).
As an emergency physician, it may be comforting to know that these patients can be started on aspirin instead of anticoagulation and the subsequent challenges associated w/ INR monitoring.
References
Markus HS, Levi C, King A, Madigan J, Norris J. Antiplatelet Therapy vs Anticoagulation Therapy in Cervical Artery Dissection: The Cervical Artery Dissection in Stroke Study (CADISS) Randomized Clinical Trial Final Results. JAMA Neurol. 2019;