You see this EKG for your elderly patient who has just been admitted to the CCU and your eyes open up wide. What is the rhythm(s) below?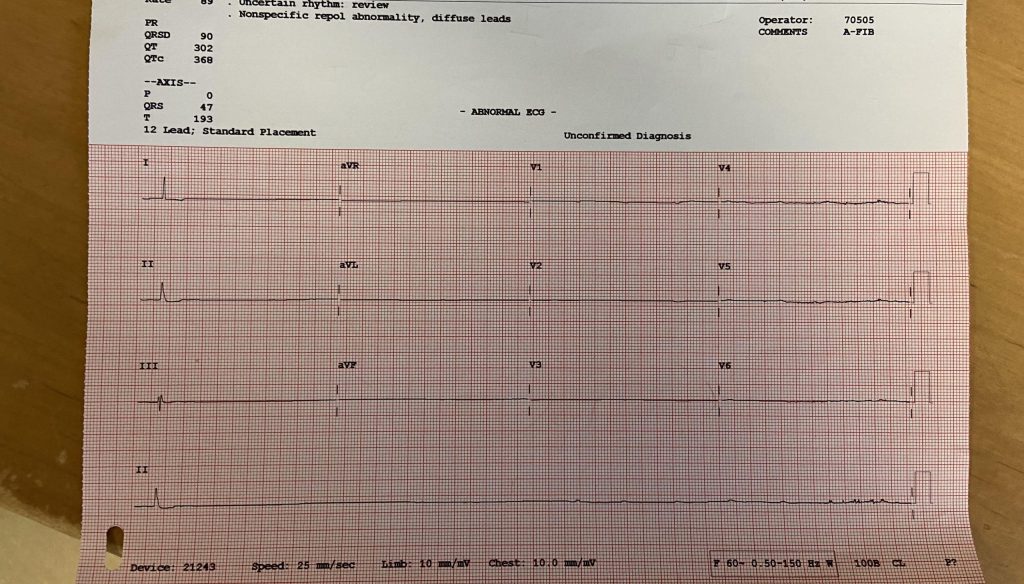 SPOILERS AHEAD
If you thought to yourself "is this complete heart block with a junctional escape at a rate of 6 and an episode of sinus arrest/pause," pat yourself on the back cause those are some solid EKG reading skills.
So what does the above mean?
The first QRS complex is not preceded by a P wave but is still narrow, and therefore is a junctional escape rhythm (liftl junctional escape). The rate prior to this strip was actually about 110 which is consistent with junctional tachycardia. It was interpreted as a rate of 6 because on this particular strip, there is one QRS complex in 10 seconds. The sinus arrest or sinus pause refers to the run of >3 seconds during which there is no sinus activity (no p waves). This is then followed by P waves in the latter half of the EKG (zoom all the way into the bottom Lead II), which are not conducted to the ventricles, indicating complete heart block.
All in all, this is sick sinus syndrome complicated by bradycardia tachycardia syndrome. As this patient was A&O x 0, bed-bound, and elderly, the family opted for comfort measures only. More on sick sinus syndrome here.