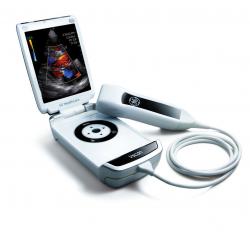 Mount Sinai is proud to be among the first group of medical schools to incorporate point-of-care ultrasound into into your preclinical medical education. This is part of a study which has been established with GE Healthcare in collaboration with Principal Investigator Jagat Narula and co-PI Bret Nelson.
You've had a taste of sonography during Gross Anatomy, and now we will continue to expand your experience during ASM-I using handheld ultrasound devices. This page will serve to highlight the components of the ultrasound curriculum.
Click below for your final exam (really!):
Ultrasound Competency Assessment-ASM1
Use that sheet to guide your study as we go through each module individually. At the completion of this course you will be able to perform a basic, focused sonographic assessment of the heart, lungs, gallbladder, and aorta, as demonstrated in this video:
Blackboard is your primary source for dates, times, and definitive schedule updates. Please be sure to use that and the ASM-I course director Dr. Joanne Hojsak for definitive course information. For ultrasound-related questions please contact Dr. Bret Nelson, the director of the Emergency Ultrasound Division.
Modules:
Introduction to ultrasound physics and using the machine
Using the Vscan ultrasound device video:
Ultrasound physics lecture:
Cardiac system
We will focus on the following sonographic views and anatomy:
Subxiphoid 4-chamber view
Parasternal long axis view
Resources:
Subxiphoid 4-chamber (aka subcostal) view anatomy from Yale Atlas of Echo
Parasternal Long axis view anatomy from Yale Atlas of Echo
Online interactive cardiac ultrasound Quiz (10 questions, enter any name you like)
Cardiac ultrasound lecture:
Pulmonary system
We will focus on the following sonographic views and anatomy:
Pleura to assess for pulmonary edema
Costophrenic angle (above diaphragm) to assess for pleural effusion
Resources:
Online interactive thoracic ultrasound Quiz (10 questions, enter any name you like)
Thoracic ultrasound lecture:
Hepatobiliary system:
We will focus on the following sonographic views and anatomy:
Assess the gallbladder for stones
Assess a sonographic Murphy sign
Resources:
Online interactive gallbladder ultrasound Quiz (10 questions, enter any name you like)
Gallbladder ultrasound lecture:
Arterial system:
We will focus on the following sonographic views and anatomy:
Assess the abdominal aorta for aneurysm
Resources:
Online interactive aorta ultrasound Quiz (10 questions, enter any name you like)
Aorta ultrasound lecture: